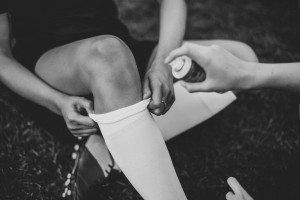 Knee Surgery
Knee surgery, including knee replacement surgery and meniscus repair, can lead to an increased risk of muscle atrophy and blood clots. Helping to ensure the best recovery, it's recommended that patients incorporate exercise into their post-surgery rehab process. Fortunately, there are specific exercises that you can use to improve the muscles surrounding the knees and thighs. If you are in need of physical therapy near Bethpage, visit us at Farmingdale Physical Therapy East. We offer a skilled hands-on program with our experienced physical therapists, providing over 30 years of expertise. Below you will find exercises you can do to increase mobility, along with the main reasons you'll need to complete a physical therapy program post surgery.
Postoperative Exercises To Initiate Early On
Quadriceps sets – The way these exercises work is by tightening your thigh muscle while straightening your knee and then holding for 5-10 seconds. Repeat this maneuver approximately ten times during a two-minute period, rest for one minute, and then repeat until your thigh feels fatigued.

Straight-leg raises – Start by tightening your thigh muscles with your knee fully straightened, then proceed to lift each leg for several seconds alternatively. Repeat this action until your legs feel tired.

Ankle pumps – This involves moving your foot up and down rhythmically by contracting your calf and shin muscles. Look to perform this exercise for two to three minutes at a time.
An excellent way to reach your physical therapy goals is with the assistance of an outpatient rehabilitation clinic where you can learn how to properly use walking equipment, complete a 6-8 week assisted therapy program, and understand how to incorporate these exercises at home. Farmingdale Physical Therapy East offers physical therapy near Bethpage that is designed to achieve a healthy recovery from knee surgery.
How Outpatient Physical Therapy Can Help You Recover
Graded exercise program – A physical therapist will work on having you walk and stand appropriately after surgery for the first two weeks. The next two weeks will be followed by 20-30 minute workouts involving strengthening the muscle around your injury. Lastly, you will focus on resistance exercise with weights.

Help your wound heal – A physical therapist will show you how to clean and redress the area around your surgical incision site.

Using the proper equipment – By working with a physical therapist, they'll be able to show you how to properly use a cane or walking device and ensure that these items are perfectly fit for your height.
If you have recently undergone knee surgery, do not hesitate to make an appointment with Farmingdale Physical Therapy East. We are commonly referred to by doctors and surgeons, and we accept most insurance companies. If you are looking for physical therapy near Bethpage, our clinic offers the best-in-class office and equipment for a wonderful recovery process. Click here to find out more about what to expect during your first appointment, and we look forward to hearing from you soon!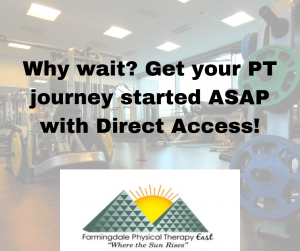 After knee surgery, direct access for physical therapy can be an essential tool for your recovery process. Direct access gives patients the ability to seek physical therapy, without the need for a referral from a doctor or another healthcare practitioner. For more information regarding direct access, contact Farmingdale Physical Therapy East today!