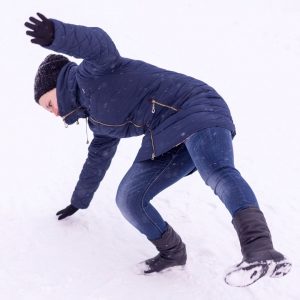 Winter is in full swing, and with it comes ice, snow, and slippery conditions. During the chilly winter months, slips and falls frequently happen thanks to the dangerous conditions created by winter weather. While most slips result in only minor injuries, we often see patients who suffer more severe injuries from slipping on ice. By preparing to prevent falls on ice, you can significantly minimize your risk. At Farmingdale Physical Therapy East, we offer direct access physical therapy near Bethpage to help those in need of quality care. Continue reading below to learn how to prevent slips on the ice this winter.
Preventing Slips on Ice
The best way to combat winter injuries is to prevent them from happening in the first place. Here are some helpful tips to prevent unfortunate winter slips and falls:
Wear appropriate shoes – Shoes that provide good traction on ice or snow are essential to prevent slips. Shoes with rubber soles or boots with texture and grip can keep you stable on snow and ice. Make sure your shoes fit correctly and have low heels.
Walk cautiously – In slick conditions, walk slowly using short, small steps. If the walkway is extra slippery, try shuffling without picking up your feet. You can also walk on textured surfaces like grass or snow to avoid slick walkways. Your arms will help keep you balanced, so avoid carrying heavy objects and keep your hands out of your pockets.
Remove snow – Make sure to remove snow from your porch, steps, driveway, and sidewalk before it gets packed down and turns to ice. Apply ice melt to prevent the formation of slick, icy patches.
The most common injuries we see for physical therapy near Bethpage caused by winter slips are back and neck strains and injuries to the wrist, hand, or elbow. If you experience an injury after slipping and falling on ice or develop persistent pain, visiting Farmingdale Physical Therapy East is crucial. We offer direct access to physical therapy to patients seeking care. Direct access allows patients to visit our office without waiting for a referral. Our team will evaluate your condition to determine your injury and its severity.
Contact Us
Walking in the winter snow and ice can be a treacherous task, but slips and falls are avoidable if you are well-prepared for your winter outing. At Farmingdale Physical Therapy East, we offer direct access physical therapy near Bethpage to help patients protect themselves this winter and manage any injuries that may arise. To learn more about fall prevention or to schedule an appointment, be sure to contact us today!