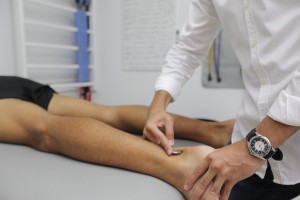 It's October, a time of candy, trick or treating, and of course a friendly reminder of why you should be visiting a physical therapist. That's right, October happens to be National Physical Therapy Month. Allowing those in the industry to showcase their talents and services. Your local Farmingdale physical therapist, Farmingdale Physical Therapy East, is here to show appreciation for all of the outstanding physical therapists and therapeutic services we have to offer. But if you're considering physical therapy in general, take these potential benefits into account:
Treatment of pain – naturally, what initially brings you to a physical therapist is some sort of pain related or injury related issue. Well, physical therapy has the potential to not only alleviate the pain but perhaps eliminate it entirely. Physical therapists can even inform you on how to prevent the issue from ever cropping up again.
Alternative to surgery – although it's sometimes unavoidable, surgery can come with various complications. But some therapists may recommend pursuing physical therapy as opposed to surgery. Even if surgery is deemed necessary, physical therapy can also be used to help you recover from the procedure and hopefully get you back to functioning perfectly.
Increased mobility – mobility issues can occur at any age, but it occurs more frequently in seniors. Physical therapy has been confirmed as a great method to improve mobility and increase flexibility. By understanding your specific issues, physical therapists can create a personalized plan that will incorporate stretching and strengthening of the body and its muscles.
Age-related issues – going back to the aging process, some adults can experience complications as they continue to get older. Thankfully, physical therapists are well-informed on the changes that can occur and will be able to offer assistance in treating some of these concerns. Common age-related complications can include disorders such as osteoporosis and arthritis.
If you're planning on getting festive here in October, then forget the ghosts and goblins and visit a physical therapist! Those searching for physical therapists in the Farmingdale area need to consider Farmingdale PT East. If you're interested in scheduling an appointment or need a consultation, contact us today and see what we can offer you.